Today is a special day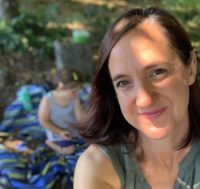 Hello, I'm Inés Fernández Ulibarri, and today, September 17th, on the occasion of International Kleefstra Syndrome Day, I would like to present my blog "About Kleefstra".
My two-year-old daughter Julia has this rare disease of genetic origin which affects the neurological development, and currently has no cure or treatment. My dream, like that of many parents, is to find a cure for this syndrome. There is still a long way to go, but I am sure that if we work together: families, doctors and researchers. We can make progress in improving medical care and developing specific treatment.
As a mother and scientist I have created this new platform with the aim of building bridges and strengthening collaborations between these three communities.
The Kleefstra syndrome is a relatively young syndrome and it is necessary to continue to put efforts into the training of families, the training of doctors and dissemination among the scientific community in order to promote research.
In my blog "About Kleefstra", written in an enjoyable and accessible way, with additional specialised content, I will tell you about the Kleefstra syndrome from my own experience, share my concerns, open questions with the idea of mobilising and inspiring families and professionals so that together we can find the best solutions and move forward. I am very excited about this project. I hope we will do it together!
See you soon!